Interior Design Awards and Press Coverage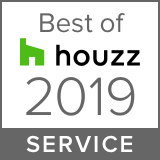 Best of Houzz is a true badge of honor as it is awarded by our community of homeowners, those who are hiring design, renovation and other home improvement professionals for their projects," said Marcus Hartwall, Managing Director of Houzz UK and Ireland. "We are excited to celebrate the 2019 winners chosen by our community as their favorites for home design and customer experience, and to highlight those winners on the Houzz website and app.
25 Beautiful Homes Magazine
Interior Design Projects featured in 25 Beautiful Homes Magazine, February 2014.
Article written by Mandi Millar, Photographer: James French
This delightful Grade II listed, late Eighteenth Century terraced house located in Lewes, East Sussex, had been neglected for some time, following extensive restoration work the house now combines mid century design with period features and is home to James Flynn and Anna Morfey.
The Implant Centre, Hove.
We were delighted to win a number of awards for The Implant Centre in Hove.
The Dental Awards 2012
Winner of Best Interior and Design Award – Nationally
Winner of Best Interior and Design Award – the South of England
ACUMEN Commercial Property Awards 2012
Runner up – Best Refurbishment Award
The Private Dentistry Awards 2012
Winner of Best New Practice
Winner of Best Implant Practice
Shortlisted for Most Attractive Practice